Wraps
Vehicle graphics is one the fastest growing ways to promote your business, an event or even yourself! It is no longer limited to box trucks and vans either. We are able to put amazing printed or textured vinyl on anything that hits the road. In fact, we can enhance those rides that hit the dirt, water or snow as well.
A printed vinyl decal, half wrap or full wrap give you the ability to include any message, logo and image on your vehicle. We offer a number of different laminate options like a gloss, matte, satin or even sparkle finish.
First, we take pictures of your vehicle, take measurements and find your exact make and model in our extensive library of templates. Then, you communicate to our designers your vision if you have one or you just cut our creative team loose. Finally, we provide you with a detailed, high resolution concept rendering to show you what it will look like when finished.
We also have a mind blowing selection of Vinyl Wrap Films as well if you are looking for a color change. There are countless colors available in satin, matte, gloss and textured. There are some other exciting possibilities with reflective, chrome and color shift vinyls.
Just swing by or send us some pictures of your vehicle and we can provide you a with a quote and get the process started for you. Whatever look your aiming for, our design team can design and mix and match wrap films with printed material to really make you and ride . . . Stand Out!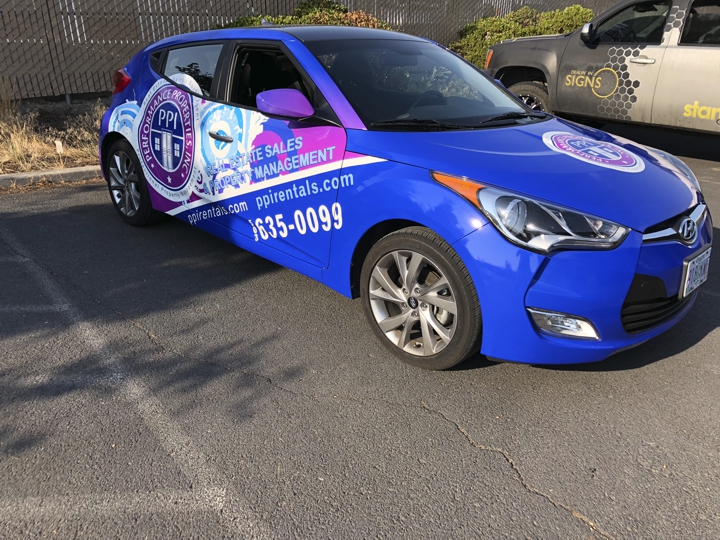 Wall Wraps
Ever wish that the walls inside your business could tell the story of the goods and services you provide? Or maybe just to impress and entertain your guests with breathtaking images? Or possibly just a large shape cut logo or mission statement to let your clients know where they are? We can help you accomplish one or all of the above!
We can add stunning graphics to walls, ceilings and even floors. There really is almost no limit to what we can do and it is an extremely cost effective way to make the interior of your business . . . Stand Out!